Luke Campbell and Mitchell Smith have learned that boxing is about hurt, not hype
It is rare that a genuine prospect gets beat when he is meant to win, but this month this has happened to two of Britain's very best young fighters.
In both cases the boxers were not overmatched, or thrown into a risky fight that had some type of genuine benefit. Both were hefty favourites with the bookies and both had big fights planned.
At the O2 in London on December 12, Luke Campbell was dropped heavily and beaten over 12 rounds by Frenchman Yvan Mendy. Campbell, who won Olympic gold in 2012, was unbeaten in 12 with 10 knockouts and, during the last year, has been declared the best lightweight in Britain; a super champ in waiting.
The truth is that the people in charge of him -- and some easily influenced so-called boxing experts -- considered that he was a better fight than the British lightweight world champions Terry Flanagan and Ant Crolla, and far in advance of the British lightweight contenders Kevin Mitchell, Derry Mathews and even the British champion at the weight, Scott Cardle. He was our new Jim Watt, the lightweight hero for the future.
Campbell, you see, had sold out venues in his hometown of Hull, had thrilled the crowds with fights and smiled each time the cameras settled on him. Nobody told him that the business gets harder.
He found out when the bell sounded against Mendy. Campbell also found out that praise is not an asset once a man refuses to fall over in the ring, and that no amount of expectation and wild predictions can help a fighter when it gets tough inside the ropes. In defeat, Campbell showed that he has guts and that will, trust me, help him in the future.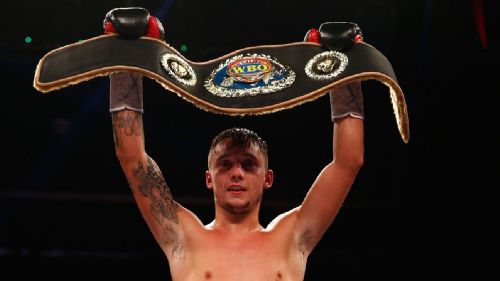 At the Manchester Arena last Saturday, Mitchell Smith, who narrowly pipped Campbell to become the British boxing writers' young boxer of the year, was given a serious lesson in humility, preparation and old-fashioned skill by a man called George Jupp.
Smith had started to believe his publicity and, during a bad-tempered week before the fight, had verbally abused his opponent and his opponent's seasoned and decent trainer, Derek Grainger. I have to say that Jupp and Grainger handled the nonsense with dignity and class. I was a bit disappointed with Smith and I was not alone in looking at his skin colour and body tone and thinking that perhaps he had cut a few corners during the preparation for the fight. I was probably right.
Jupp was picked to lose, picked to make Smith, who was unbeaten in 13, look good before a massive announcement. Jupp refused to lose and he and Grainger worked to a plan; Smith was outpointed over 10 rounds and deserved to lose. Grainger, by the way, once went unbeaten in 18 fights before getting his own reality check one night at the Royal Albert Hall in 1991. The defeat could make Smith the fighter that he started to think he was, but it will not be easy.
Jupp and Mendy offer a dark warning to Britain's hundreds of unbeaten and untested young fighters that no amount of publicity, careful matchmaking and ticket sales can protect you in a real fight.
It's the hurt business, not the hype business.
Vinny Pazienza was in London to fight Herol 'Bomber' Graham and the extrovert former world champion was in fine form and contemplating a career in the adult film industry.
"Pazienza says that he has invited his "friends from the industry" to London for the contest and the guest list for his private party afterwards reads like a business-card display in a West End telephone box."
Pazienza had survived a car crash to defy the odds and walk and fight again. "'I knew that if I could have sex with a girlfriend, I would fight, because I need to do both. That is my life: sex and fighting,' said Pazienza."
"For Saturday's contest against Graham, he has settled for a poster which shows him holding the severed heads of two women." He had previously walked naked through a graveyard to help sell a fight.
Graham was the underdog at Wembley in the fight and Pazienza had lost only to Roy Jones in his previous 13 fights. On the night, however, Graham gave him a boxing lesson and won every round.
As reported in the Daily Telegraph on December 4, 1997