Joshua looking past Whyte to British super fights vs. Haye and Fury
Anthony Joshua will not let a thirst for revenge dictate the way he approaches Saturday's fight with Dillian Whyte as he targets bouts against David Haye and Tyson Fury next year.
Joshua faces Whyte for the vacant British heavyweight title with the latter trying to provoke the 2012 Olympic gold medallist.
Whyte (16-0, 13 KOs), 27, has called Joshua "a drug dealer from Watford" among other insults and regularly reminded him that he won their 2009 amateur bout.
However, Joshua (14-0, 14 KOs), 26, who goes into the fight at the O2 Arena in London as Commonwealth champion, rose above the trash talk and looked to the future, outlining plans to face both Haye and Fury before the end of 2016.
"I have to perform but my ambitions are past him," Joshua told ESPN. "I'm not going to make him out to be better than he is.
Been a busy day! Time to loosen off after this afternoon's session #AJBoxing pic.twitter.com/zgzwaTwEfE
Anthony Joshua (@anthonyfjoshua) December 7, 2015
"Nothing he says is going to surprise me any more. I don't think there's anything he can say more that he hasn't already said at press conferences or in interviews.
"I won't lose my cool and try and bite his ear off or something. I will try and defend myself verbally, but I'm not worried about it.
"If I had to choose someone who I was more like, it would be Wladimir Klitschko rather than Fury. I don't really do trash talk.
"You always want to get your own back and it will be good to do that but I won't let it dictate my feelings on the night."
Whyte has the same American trainer -- Johnathon Banks -- as Ukrainian Klitschko, whose nine-and-a-half-year reign as world champion was ended by a shock points loss to Fury on Nov. 28.
But Joshua said whoever is in the corner will make no difference. "He has been training with Banks but it's been too much of a short window to make any difference in the fight for him," Joshua said.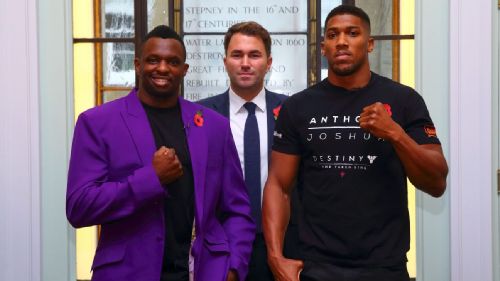 Whyte is viewed by Joshua as a stepping stone to bigger fights next year. Haye, 35, recently announced his return for next month after a three-year exile while Fury, 27, has agreed to fight Klitschko in a rematch next year.
"Fighting Haye and Fury next year would be class," Joshua said. "It's all about development and all about Dec. 12 right now and how I perform there.
"But 100 percent it's good to have Haye back. It was funny in the press conference. Apparently his shoulder was so bad he could never fight again -- now he says it's better than ever. I was cracking up when he said that.
"But it's good to have him back. He did well as a cruiserweight but I honestly believe he has a lot to prove as a heavyweight.
"If everything goes well then it seems 2016 has to be a big year and towards the end of 2016.
"So September for Haye, that makes sense, and December to fight Fury."