Boxing Day: History's biggest bouts during the festive period
With this being the season of goodwill, boxing generally shuts down over the festive period with big fights in America and Britain about as rare as a sighting of Santa.
But that was not the case decades ago, when title fights and big names were involved in some season's beatings. In a few places there will still be boxing this Christmas Day, Boxing Day and New Year's Eve.
Last Saturday's world title fight between Andy Lee and Billy Joe Saunders is about as close as it gets for a major title fight being staged in the UK before Christmas, and the hurt business then takes a break until the New Year.
Similarly in the United States, last Saturday's bill featuring world featherweight No.1 Nicholas Walters and the WBA interim heavyweight title bout between Luis Ortiz and Bryant Jennings was the last big boxing show in America until Deontay Wilder defends his WBC world heavyweight title back in New York on January 16. On the same night in London, former world heavyweight champion David Haye makes his comeback after over three years out in the first significant fight in the UK for nearly a month.
However, there are professional boxing events taking place in Belgium and South Africa on Christmas Day and also on Boxing Day in Belgium, Argentina, Italy, Japan, Nigeria and Ghana.
And on December 29 there are two world title fights on the same bill in Tokyo, Japan, as Naoya Inoue takes on Warlito Parrena for the WBO super-flyweight title and Javier Mendoza faces Akira Yaegashi for the IBF light-flyweight belt.
Japan and Thailand have an appetite for enjoying fisticuffs around this time of year and on New Year's Eve Japan hosts no fewer than five world title fights at three different venues, the pick of which is Japan's WBA world super-featherweight champion Takashi Uchiyama (23-0-1, 19 KOs) against Oliver Flores (27-1-2, 17 KOs), from Nicaragua. It will be the fifth year in succession that Uchiyama has defended his world title on New Year's Eve. He clearly enjoys it, after reigning for five years and is currently No.1 in the ESPN world divisional rankings at super-featherweight.
The other world title fights on a busy New Year's Eve for Japanese boxing are at flyweight, light-flyweight and minimum-weight but boxing over the festive period was once common in different parts of the world.
Perhaps the biggest fight over the festive period happened when Jack Johnson became boxing's first black world heavyweight champion on Boxing Day in 1908. Johnson, from Texas, toyed with Tommy Burns before forcing a seventh round stoppage in Sydney to start his seven-year reign. In the 14th round the police stormed into the ring to stop the one-sided fight after Burns had been dumped on the canvas. Canadian Burns felt so humiliated he stayed in Australia for 14 months.
A few years later, on Christmas Day 1923, Harry Greb was supposed to defend his world middleweight title against Tommy Loughran, but Loughran had got stuck into the Christmas turkey a little early and missed the weight by more than eight pounds, making it a non-title bout. Greb won by a 10-round decision and would only see another two Christmas Days while Loughran went on to become world light-heavyweight champion.
It was a sad Christmas Day for Kid Chocolate in 1933. The classy Cuban was in decline and a gift for Frankie Klick, who stopped him to become world super-featherweight champion in Philadelphia.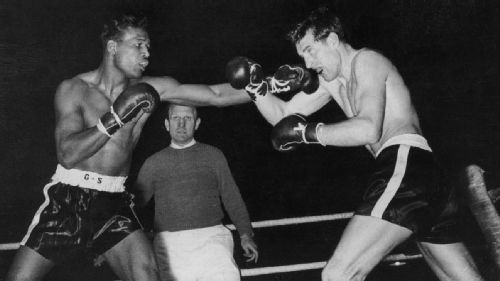 The great Sugar Ray Robinson spent Christmas Day in 1950 in Frankfurt, Germany, where he punched the lights out of local Hans Stretz. Two months later, Robinson beat Jake LaMotta for the world middleweight title in their famous fight that became known as the St Valentine's Day Massacre.
LaMotta, known as the Raging Bull, was in action a couple years later on New Year's Eve in 1952 when he was sent to the canvas for the first time in 103 fights by a right hand from Danny Nardico. LaMotta was being beaten so badly that his corner pulled him out at the end of the seventh round in Florida. Former world middleweight champion LaMotta went off to see in the New Year and ponder his career, which was to have just three more fights left.
Kid Herman was left with a banging headache on New Year's Day 1907 after being knocked out by a ferocious right hook thrown by Joe Gans. The first African-American world champion at any weight division defended his world lightweight title with the eighth round KO win in the afternoon at the Big Casino in Tonopah, Nevada. Gans reigned until 1908 and died, aged 35, of tuberculosis two years later.
Nick Parkinson is ESPN UK's boxing correspondent and the author of 'Boxing On This Day'.