Artur Szpilka steps up to challenge heavyweight titleholder Deontay Wilder
Heavyweight titleholder Deontay Wilder voiced concern Saturday that just six weeks before his next title defense, he still does not have an opponent. That changed Tuesday, when he got one in Polish contender Artur Szpilka.
Wilder will make the third defense of his belt when he faces Szpilka on Jan. 16 in a Showtime-televised main event at Barclays Center in Brooklyn, New York.
"You have one of the biggest Polish populations around the Barclays Center and in the New York/New Jersey area, and whatever you want to say about Szpilka, the guy is rugged and a brawler," promoter Lou DiBella, who will promote the fight, told ESPN.com on Tuesday night, confirming rumors that Szpilka would be the opponent. "He won't stink the joint out. He'll make a good fight."
Wilder had hoped to announce a defense against Ukranian contender Vyacheslav "Czar" Glazkov on Saturday at a news conference at Barclays Center before the Daniel Jacobs-Peter Quillin middleweight title bout. Representatives for Wilder and Glazkov had been negotiating the fight for nearly two months but were hung up on details. Then, when Tyson Fury pulled a huge upset by outpointing long-reigning world champion Wladimir Klitschko to take the lineal title plus three sanctioning organization titles on Nov. 28, it gave Glazkov another significant option.
Glazkov had been one of Klitschko's mandatory challengers, an obligation Fury inherited, but because Klitschko exercised his contractual right to an immediate rematch, it left Fury unable to face Glazkov, who this week elected to instead face Charles Martin for the belt Fury was stripped of on Tuesday, rather than finalizing the deal with Wilder that had been on the table.
Wilder showed at Barclays Center lacking an opponent and instead talked with the media for a half-hour about various heavyweight-related topics. He was not happy to be without an opponent so close to the fight.
"It's frustrating," he said Saturday. "What's frustrating is having an opponent that's there [Glazkov] and having had a deal for two months, and all of a sudden, they see an opportunity and they take the easier route. I think it's disrespectful and unprofessional, in my opinion. I was looking forward to whupping [Glazkov] and whoever else. I'm looking to unify the division, and that's my main goal and my mission. Whoever steps in that ring is going to get punished. I guarantee it. I promise you guys I will unify the division."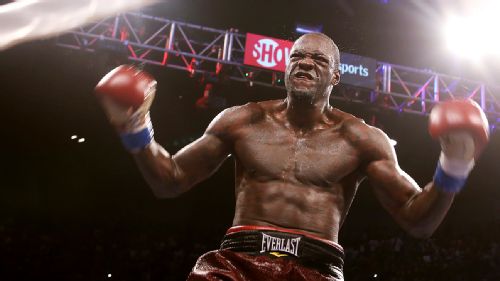 Szpilka (20-1, 15 KOs), a 26-year-old southpaw, is the guy Wilder will be looking to punish. A popular fighter in his country and known for his hard-charging style, Szpilka relocated to Houston earlier this year to train with Ronnie Shields. Since suffering a 10th-round knockout loss to fellow contender Bryant Jennings in January 2014, Szpilka has won four fights in a row, including a 10-round decision against countryman and longtime contender Tomasz Adamek in November 2014 in one of the biggest heavyweight fights in Polish history.
DiBella said he expects Szpilka to let it all hang out against Wilder (35-0, 34 KOs), 30, of Tuscaloosa, Alabama, one of boxing's most powerful punchers.
"I think this could be like what you saw earlier this year, when [Polish cruiserweight contender Krzysztof] Glowacki stepped up to challenge [long-reigning titleholder] Marco Huck," DiBella said of another fight he promoted.
Glowacki rallied to knock out Germany's Huck in the 11th round and take his title in an action-packed, fight-of-the-year candidate Aug. 14 at Prudential Center in Newark, New Jersey, where the crowd was overwhelmingly Polish. DiBella said he expects Szpilka to draw a similarly excited, Polish crowd to Barclays Center.
"There's never been a Polish heavyweight champion of the world, so whatever limitations Szpilka has, he is fighting for history. That's a strong motivator," DiBella said. "Glowacki walked in as a big underdog against Huck, and look what happened: He pulled the upset in a great fight. I'm not saying the same thing will happen, but I think you'll see this guy [Szpilka] throw down and go for it. As a promoter, you want a fight that's promotable, and this is one that is. Style-wise, this is a whole lot better than Glazkov would have been for the fans."
Wilder, who claimed a bronze medal in the 2008 Olympics and is the most recent American, male boxer to receive an Olympic medal, outpointed Bermane Stiverne in January to claim his heavyweight belt and become the first American heavyweight world titleholder since Shannon Briggs lost his belt in 2006.
Wilder has made two defenses against low-level opponents, both in Birmingham, Alabama. He knocked out Eric Molina in the ninth round but nearly got knocked out himself in June. On Sept. 26, he stopped Frenchman Johann Duhaupas in the 11th round.
Other opponents who had been in the mix to land the fight with Wilder include 43-year-old big puncher Amir Mansour (22-1-1, 16 KOs), 44-year-old Briggs (59-6-1, 52 KOs), whose team, according to a source with knowledge of the offer, turned down the fight because it was seeking a package of around $2 million, and Hughie Fury (18-0, 10 KOs), whose team also turned down the fight. The 21-year-old is the cousin of Tyson Fury, so a match between Hughie Fury and Wilder would have further stoked interest in a potential unification fight between Wilder and Tyson Fury.