Anthony Joshua faces first real test against rival Dillian Whyte
There comes a time in the life of every single heavyweight when he finally has to prove he can fight.
Now, the first test does not have to be a long fight, the boxer does not have to survive cuts and knockdowns, and it does not have to be against an unbeaten rival.
Frank Bruno was unbeaten in 18 fights when he had his test one night in 1983 at the Royal Albert Hall; the calculated, crafted and costly course of Bruno's life was so nearly undone by a tough felon called Floyd Jumbo Cummings.
Bruno was left on his feet, in dreamland and reaching for the fairies after Jumbo connected in round one. Thankfully, the bell sounded to end the round soon after the crisis and it saved Bruno's career; Bruno was revived in the corner, survived the next five rounds and when Jumbo was exhausted, it was Bruno who was hauled off and declared the winner in round seven. Bruno had passed the test, he had desire and heart to match the hype and the hope.
Lennox Lewis passed his test one night in the ancient Wembley ring when he did have a dangerous and unbeaten man in the opposite corner. Gary Mason entered the ring that night in 1991, undefeated in 35, the British heavyweight champion and confident that Lewis was a fighting fraud. Mason's promoter Mickey Duff had a large wager on his man winning and admitted later in life that miscalculating Lewis' ability was one of the biggest mistakes of his boxing career.
Lewis against Mason remains one of British Boxing's hidden gems, a great fight that was desperate at times and included an epic exchange in the corner between the referee Larry O'Connell and Mason's trainer Dennie Mancini.
At the end of round five O'Connell was rightly concerned about Mason's health and went over to the corner and asked if he wanted to continue. Mancini turned to him and pleaded: "Larry, leave him alone, this is how he makes his living." O'Connell retreated, Mancini was right but two rounds later it was stopped and Lewis, like Bruno, had passed the test.
On Saturday at the O2 in London it is Anthony Joshua's turn to take the test. He has shown that he has commitment, power and marketability during his flawless boxing professional career. He is 14 and zero with 14 stoppages and knockouts and so far he has not been hit with venom. He certainly passed the test as an amateur and had to dig deep three times at the Olympics.
Dillian Whyte is going over old ground, looking for win No.2 against Joshua and this time it is personal. The pair met as a couple of raw amateurs above a pub near the Archway, in north London, in 2009. Whyte was having his first contest and Joshua his fourth -- Whyte won on points over three rounds and dropped Joshua.
Since then, well, life has been very different for the two battlers: Whyte was banned from amateur boxing when it was discovered that he had been paid as a kick boxer. Joshua was on remand and preparing for a prison term, and narrowly made it to London 2012 where he won gold. Whyte was then suspended from pro boxing when he failed a drugs test. Joshua is feted as the next great heavyweight world champion. There is a lot at stake.
It's a test for both of them. Ding, ding.
Buncey's Vaults
It was an angry mob in Las Vegas at the MGM when Mike Tyson beat Bruce Seldon and won another portion of the world heavyweight title. "It should have been a real fight but in the end Seldon's fear stifled his desire and after 45 seconds of hopeful retreating he ducked under a right and fell to the canvas."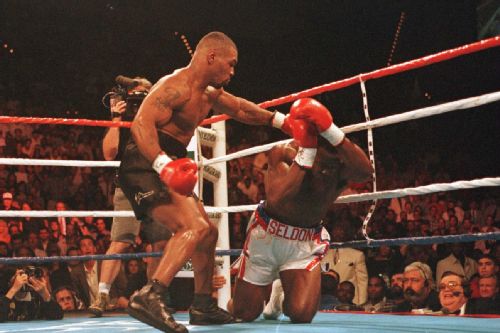 Seldon regained his feet, Richard Steele thought it was a slip and then Tyson moved in for the end. "A few seconds later a sweeping left hook landed, Seldon moved back and lunged to his left, hitting the canvas with a thud. He regained his feet, swayed and was pulled out by Steele. The time was 1 min 49 sec of round one."
It was both impressive and farcical. "The fight proved that Tyson can a still ruin men. Seldon is not a coward and the fight was not a fix, but once the bell sounded and the punches started, he clearly underwent a serious change of heart."
At the post-fight press conference the next Tyson fight was announced and Evander Holyfield was introduced. I have no idea where Seldon was. There was a banner declaring Nov 6 and people genuinely feared for Holyfield's health. "Dr Elias Ghanem, a member of the Nevada State Athletics Commission's Medical Advisory Board, has threatened to vote against Holyfield fighting in Las Vegas." Mad days.
As reported in The Daily Telegraph, September 9, 1996.